Climbing from branch to branch to the top of a tree - feeling, touching, listening to the wind and birdsongs -moving and playing in the crown of a tree. Climbing trees allows you to approach the forest in a different way. Experience this nomadic activity while you are still being respectful to the forest environment. Come and discover the alpine forests of Champsaur Valley.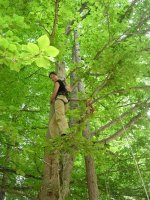 You can climb and explore differents type of trees. Comfortably seated in a harness or laying in a hammock will invite you for a dream of an unforgettable night… Young and old, please come and join us for these beautiful moments.
We also offer animations for schoolchildren.