Wild Plants, Picking and Recipes
During short hikes, let's rediscover the plants traditionally used in our mountains ; harvesting, recipes and protection of the resource.
3 days / 2 nights
Description : easy half-day and full-day hikes, during which the picking is done ; then meals and cosmetics are made from the harvested plants.
Dates : several dates planned, please consult us
Multi-activity cocktail
In the heart of the Champsaur Massif, come and enjoy a few exceptional days full of activities supervised by professionals in a preserved and authentic environment. After the effort, you will appreciate the comfort of your gite and the climate of the Southern Alps, a mix of softness and purity for your well-being...
Description : "sweet" : theme hikes, donkey trekking, night time, slide show,
"rando sensations" : mountain biking, Nordic walking, tree climbing and hammock night in the trees, sporty trekking
Dates : several dates planned, please consult us
The 2 stays can be linked together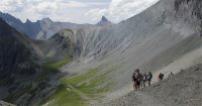 Refuges en Valgaudemar
A great journey "between heaven and earth" in Valgaudemar, the privileged territory of eagles, chamois,...
7 days / 6 nights
Description : This hike for good hikers offers you a total immersion in the preserved territory of the Ecrins National Park. An exceptional route among the most beautiful high mountain landscapes.
Dates : several dates planned, from May to September 2020, please consult us.